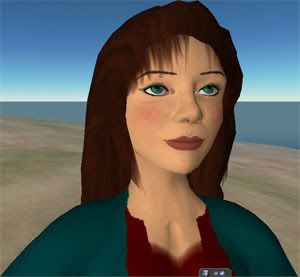 I've talked a lot about how advertising is picking up in the world of casual gaming, so I decided I should probably go back to that and start profiling some of these gaming genres, and possibly the kinds of companies that specialize in this type of advertising. Since it was recently brought up in
Greg Verdino's Blog
, I thought I'd start today with Second Life. While not technically a 'game' in the strictest sense of the word, this on-line world does allow people to build their own avatars and islands and interact with people all over the world, so I'm going to go ahead and say it counts.
According to Wagner James Au on
GigaOm
, about 400,000 Second Life residents log in on a weekly basis, and about one million log on in your average month. So of course advertisers are getting in on this new and interesting way to reach consumers, right? Well, they're trying.
Most advertising in Second Life seems to take place in the form of billboards that are as unimpressive as their counterparts in real life. In fact, the most successful advertising efforts seem to be those of SL based causes, rather than real world corporations. Besides billboards, the big thing for companies to do is create their own virtual islands, where they can fully control the marketing experience. The problem then becomes getting people to visit your island. Many companies with a presence in SL fail to attract even 500 visitors a week, making it seem hardly worth the investment.
Wagner offers a few
suggestions
as to why, in many cases, SL advertising seems not to be working. The first of these is the concept of teleportation. People can instantly teleport from anywhere in the SL world to anywhere else, which can make billboards relatively ineffective. It would seem that there is little that can be done about this issue.
The second problem is the lack of imagination in many of these company's efforts. With all the possibilities open to them in a virtual world, they seem to often be doing things exactly as they do them in the real world. At least one company,
Crayon
, is attempting to do something about this. In their recent Virtual Thirst campaign with Coke, they had SL residents get actively involved with the brand by creating the "Essence of Coca-Cola" dispensed by SL vending machines in online videos. This intrigued me, and though I was able to find Coke vending machines scattered around the world (which were not Crayon's doing), I never could figure out if Coke had an island of its own – if it does, I couldn't find it. But despite my inexperience with SL, it was still an interesting idea.
The third problem with advertising according to Wagner is the lack of people on these virtual islands interacting with visitors. This I can agree with from personal experience. After visiting several corporate islands I found lots of 'welcome' areas which were completely deserted. Even Crayon, who claims to be so involved with SL, had a completely deserted island. It was kind of spooky. People want to visit places where there are other people, so it makes sense that if no one is manning the desks in these islands, then no one will want to visit. It seems that if companies really want to make the investment to become a part of second life, they are going to have to put in a little more effort to make it successful.